Top Five Traits of Highest Performing Football Coaches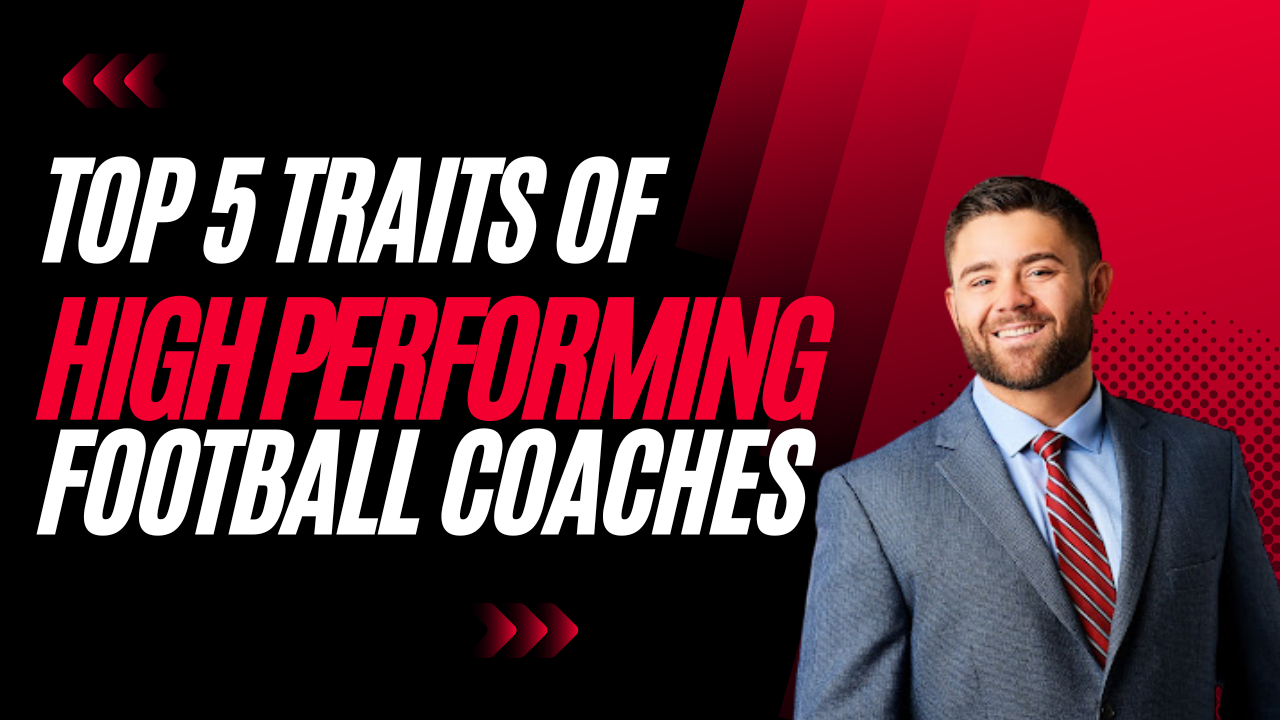 Everyone wants to be great. Yet only a handful successfully rise to the top. As Aristotle once said, "choice, not chance, determines your destiny." Daily choices form habits which determine success or lack thereof. It takes consistent and calculated action over time. Derived from conversations with nearly a thousand football coaches from 2020 to 2023, here are the Top Five Traits of the Highest Performing Football Coaches.
1. Connection
At the core of every successful program is the player. Coaches that tirelessly work for the benefit of the team are undoubtedly more successful. When the Kansas City Chiefs hired Andy Reid nearly a decade ago, he made a decision which, at least partially, started an unprecedented run of success for the franchise. His first order of business was establishing trust with his team. So he started to schedule regular meetings of a "player's leadership committee". Reid would invite one player from each position to share their gripes. His openness allowed players to complain about anything and share their concerns. According to CNBC behavior expert, Nir Eyal, when employees feel empowered to raise concerns and share new ideas, they become up to 50% more productive. Reid was receptive to the issues presented by the team. This type of connection helped Reid empower his team to focus on what really mattered during the practice week. One major caveat which many coaches get wrong is mistaking connection with friendship. As agile as Reid is in accepting concerns, he is equally as quick to let players know when they are not performing at the standard of excellence. It is the job of the leader to connect and adapt accordingly, not become friends with players. Proper communication and mindset are key to the successful execution of a program.
2. Communication and Mindset
Effective communicators inspire confidence in others. For coaches, it all starts with a proper mindset and confidence in personal preparation. Successful coaches are confident and develop strong inner-beliefs in their ability to execute at a high level. Research shows that self-confidence enriches problem solving, adaptability and overall effectiveness. The key to communicating how to become confident boils down to a few steps. According to Michael Lardon, M.D., these include: Mastery Experiences, Vicarious Learning, Modeling Behavior, and Social Persuasion. Football coaches first build confidence in players through helping them experience success in the endeavor at hand through repetitive action during practice. Then through learning the experiences of others and observing the performance of highly skilled players. Finally, positive verbal reinforcement helps encourage players when accomplishing their task at hand successfully. At a high level, this process encompasses how players learn and is vital for a football coach to intricately understand. Despite coaches generally holding unique ideologies surrounding schematics and operations, a strong mindset is a common denominator for any high performing coach.
3. Leadership
Leadership is about the group. As former head coach of Garnet Valley High School, Mike Ricci, once said on the First Down Podcast, "It is always about the team". Since 2006, Ricci's teams were an amazing 164-32. Ricci claimed that a great deal of his success was due to his "we not me" mentality. The best coaches understand that every task must have a tangible and positive impact on the team. Leadership is about holding everyone in the program accountable to a standard of excellence. Super Bowl LVI winning head coach, Sean McVay, exemplifies this notion. McVay once gave a speech about leadership to a group of high school quarterbacks and claimed that great leaders are "actually invested in those guys around them". He continued by saying that top leaders make others better and they "do that by actually believing in… and caring" for those around them. The way to do this is by demonstrating the standard on a daily basis. The age-old adage still holds true that the highest performing football coaches like McVay are the first ones in the building and the last ones to leave.
4. Situational Decision Making
The highest performing football coaches exude confidence, competence, and authority in every situation through exemplary preparation. Such preparation has a direct correlation to the decisions made by the coaching staff, impacting how often players are positioned in advantageous situations. If a quarterback performs best in a particular situation, the coach must understand exactly where they perform better and the underlying reasons. High performing football coaches know how to position the player in the game because of their relentless preparation.
Decision making in football is shaped by the dynamic nature of decisions and the tendency for them to unfold over time (Johnson, 2006). Since it is not possible to gather all information and process it simultaneously, a coach must accrue and process information in real time. In the same way, these decisions have external components, meaning some information may be important at one moment and may not pertain to the next (Johnson, 2006). These reasons make game planning preparation an important factor. Coaches must put their players in situations they expect to see from their opponent during practice. In the same way, coaches' preparation must entail situational decision making and what they expect from a play-calling perspective.
5. Adaptability
Through two decades of unprecedented success, the New England Patriots are synonymous with winning. What has made this dynasty particularly special? It certainly helped to have the greatest of all time at the helm in Tom Brady. At the same time, no single man wins a football game. To what extent does talent play a role? There is no "one-size-fits-all" recipe for the success of a football team. Considering some of the other best teams of all time, whether it be the 1985 Bears or even the 1972 Dolphins, they have one thing in common. These coaches adapted to the strengths of their football teams while developing players to fit a specific scheme.
Despite the '85 Bears seemingly flawless 15-1 record, the season actually started off a little shaky. In their first contest versus Tampa Bay, Chicago found themselves trailing 17-28. A few halftime adjustments later and the Bears' defense went on to complete the second half shutout. And the rest is history. By the '85 season, Buddy Ryan, creator of the 46 defense, perfected his brainchild. It all started when Buddy Ryan moved former Bears safety, Doug Plank, to the middle linebacker position in 1978. Ryan believed in his scheme and developed players to fit that mold. By the time Mike Singletary hit his prime, Ryan had developed him into the ideal 46 linebacker. As the most formidable MLB the game had ever seen, Singletary was nearly unstoppable. What does this story tell us? Successful coaches are adaptable and have a strong belief in their schematic principles based on the strength of football teams.
Conclusion
Justin Titchenell's research was contrived from conversations with over 1,000 football coaches ranging from high school to the NFL level. The highest performing football coaches execute the aforementioned traits. It is also clear from this research that improvement in such areas take time and commitment. As with any endeavor in life, in order to expect different outcomes, you must make change. The mission of CoachTools is to help football coaches attain success through by improving player feedback while saving them time in player grading and self-scouting. Justin and his team are excited to share how the highest performing football coaches in the country have integrated CoachTools into their daily workflow.