Coaching Today's New-Age Player
Coaching in High School Today
Today's generation of high school students are exposed to information that is readily available at the click of a button. What does this mean for high school athletes? The new-age student athlete wants understand their performance and comprehend the context upon which their performance is based.
As high school football coaches, it is our job to understand that many players seek to understand 'why'. If you are running an RPO concept and your Quarterback makes an incorrect first read resulting in a busted play, is it enough to provide basic feedback? Of course situations dictate the level of specificity that is necessary to provide your player, but I would argue that simply providing a note in your Hudl film saying "bad read" is not enough. There are only so many hours in a day and it does not make sense to provide a high-level detailed note every play. At the same time, players need to have a clear understanding of why that was a "bad read".
As a Quarterback coach, grading criteria such as 'alignment', 'assignment', 'read', 'execution' and providing a short but relevant note, can be an immensely helpful teaching tool. In another hypothetical situation, let's assume the Quarterback correctly identifies the pre-snap position of the safeties and outside linebackers to the field, makes a correct read on the 1 on 1 matchup to the boundary, and times the ball perfectly to that boundary matchup. Let's say this play resulted in positive yardage. Providing feedback such as "correct decision to the boundary", would be sufficient to be detailed, yet concise.
Performance in Context
Helping the new-age player not only understand the why behind his performance, but also the context behind that performance is crucial. If a rotational defensive lineman plays 15 snaps in a game and has a 90% game grade with no production, while your starting defensive tackle plays 40 snaps and has a 85% grade with nine tackles and two sacks, there is a major difference. The rotational player may see his higher grade and wonder why he is not starting. That is why it is crucial to paint the full picture and emphasize those major production points with players.
This is where communication, transparency, and trust play a major role. Having a full arsenal of information benefits the player-coach relationship and eases many tough conversations between parents and coaches. Have you ever had a parent badger you about their son not getting on the field? You can eliminate unwanted conversations when you present information in a black-and-white fashion.
Efficient Feedback Process
Ultimately, film evaluation and player feedback should not take too much time. Time on the field with your players is much more valuable than in your office composing elaborate excel files. That is why a player development tracking platform can help you save time and provide the best feedback to your football players. Even at the college level, especially in Division II and Division III , many coaches spend countless hours in the office grading and giving feedback. Through my experience as a student-athlete at Gettysburg College and a youth coach, there are time constraints. Any tool that can help that process and make it faster is a must have.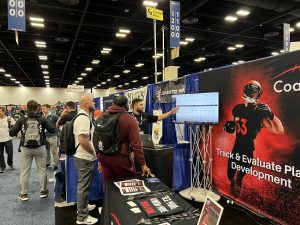 Final Thoughts
Coaches measure every major metric that contributes to winning games. How can you improve what you do not measure? Starting to understand base performance levels for your players can help you clearly identify strengths and improve weaknesses.