Lubbock Roosevelt Football Coach: Carter Robinson – Episode 40 of First Down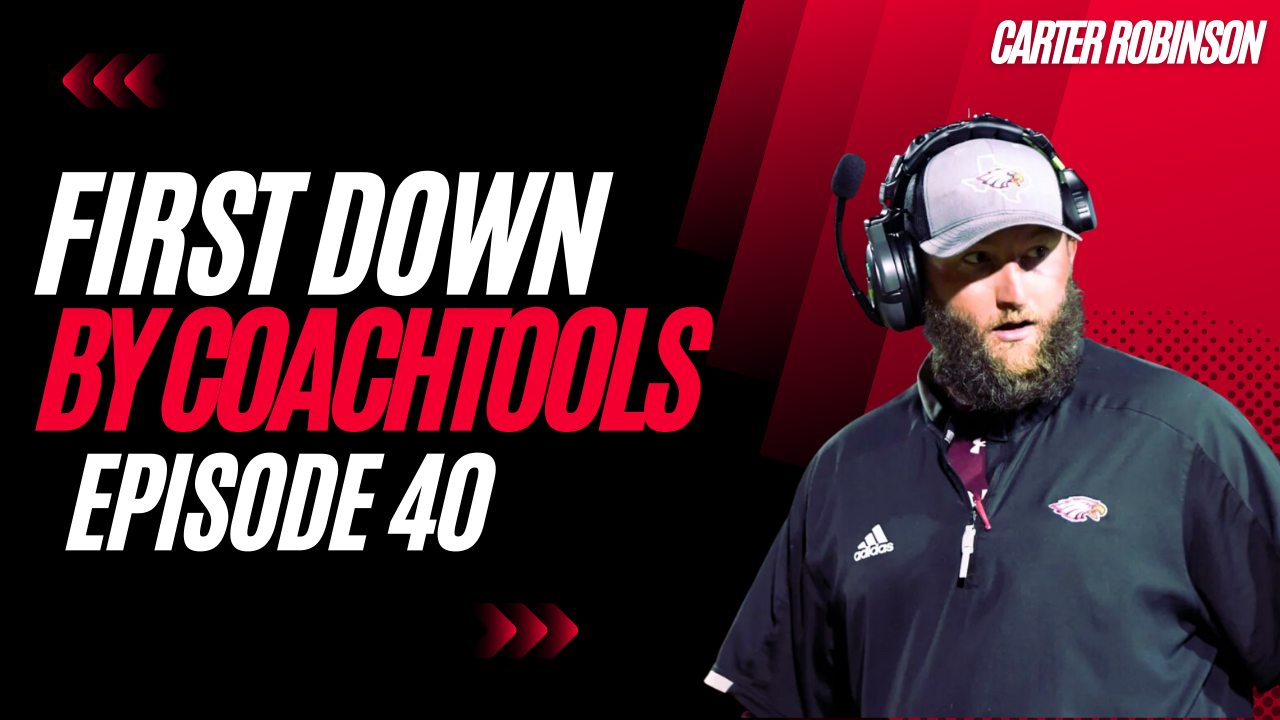 On Episode 40 of First Down by CoachTools, Justin Titchenell had the privilege of sitting down with Carter Robinson. Robinson is the head football coach at Roosevelt High School in Lubbock, Texas. Born and raised in the Lone Star State, Robinson graduated from Klein Oak High School and played his college ball at Hardin-Simmons University in Abilene. Currently, as the Head Coach at Roosevelt High School in Lubbock, Carter brings experience and a unique perspective to the game of football.
A Journey Through Texas Football
Coach Carter Robinson's story is deeply rooted in the rich tapestry of Texas football. He's had the privilege of coaching at notable schools like Lubbock Coronado and Tampa High School, gaining invaluable experience and insights along the way. Episode 40 with Robinson showcased his dedication to molding young athletes into well-rounded individuals.
Football Coaching and Developing Character
During our conversation, Carter also delved into the intricacies of defensive strategy. He emphasized the importance of halting the run and controlling the passing game. His knowledge and experience in these areas offer a valuable resource for coaches and football enthusiasts alike.
What sets Coach Carter Robinson apart is his emphasis on principles that extend beyond the gridiron. It's not just about winning games; it's about developing character, integrity, and a sense of gratitude in his players. Carter believes in fostering genuine relationships with his athletes, understanding that a strong bond off the field translates to success on it.
Cultural Pillars of Lubbock Roosevelt Football
At Lubbock Roosevelt High School, Coach Robinson has instilled a set of cultural pillars that guide his program. These pillars—Gratitude, Relentless Integrity, and Unwavering Toughness—are the cornerstones of his coaching philosophy. They shape not only the way his team plays but also how they approach life beyond football. It's a testament to the fact that Carter is not just building football legacies; he's molding young men of character.
Episode 40 of First Down with Coach Carter Robinson is great for anyone looking for a fresh perspective from a young head coach. From his playing days to his current role as the Head Coach at Roosevelt High School, Carter's passion, knowledge, and commitment shine through. His insights into defensive strategy are invaluable, but it's his dedication to fostering genuine relationships and building character in his players that sets him apart. The cultural pillars of Gratitude, Relentless Integrity, and Unwavering Toughness are a way of life for Coach Robinson. We look forward to seeing the lasting impact he continues to make in Texas high school football and beyond.